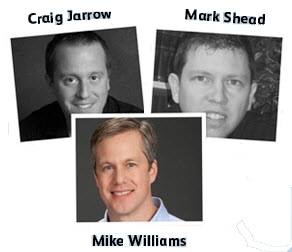 Your Panelists
Join David Allen Company CEO, Mike Williams; Time Management Ninja blogger, Craig Jarrow; and Productivity501's Mark Shead for this FREE online roundtable where they'll discuss how you can increase your productivity and share their most valuable tips for improving your ability to get more done while staying focused on the right priorities. Moderated by personal branding expert, Dan Schawbel.
["Sounds great! But I'm busy that day." Even more reason to sign up for the OnDemand recording and free assets]
Key takeaways you can put into action:
Learn how the world's leading productivity experts get more done and why.
Get clarity around goal setting, prioritization, and time management.
Improve the way you organize you day, week and quarter.